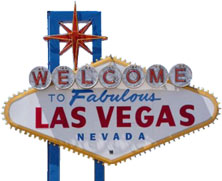 LAS VEGAS THEN & NOW
Sin City! What happens in Vegas stays in Vegas! These words describe Las Vegas to which millions of visitors flock each year. But to 1.7 million residents the word that defines the city is "home." Either way, Las Vegas is one of a kind. Once a pit stop for travelers, it became known as a mob-controlled gambling town, then as a corporate gambling mecca offering a unique entertainment experience. But there's more to the story—take a look.

Bonneville Street
Looking along Bonneville Street provides a spectacular view of how Las Vegas has changed.

The Cashman Center
The area northeast of downtown Las Vegas has grown remarkably, like the rest of the city.


El Cortez Hotel
Like Las Vegas, the appearance of the El Cortez has changed—and retained many links to the past.


Four Queens & Fremont
Fremont Street started out as a line of businesses with the railroad depot at the end. It was not paved until 1925.

The Golden Gate Corner
While downtown Las Vegas has changed in appearance, the Golden Gate remains much the same.

Golden Nugget & Binion's
The corner of Fremont and Second (Casino Center) streets remains a centerpiece of downtown Las Vegas

The Pioneer Club
"Vegas Vic" is the huge neon-lit cowboy figure that has greeted visitors for many decades.

The Plaza Hotel
The Union Plaza's construction in 1971 proved to be only one of many projects developed west of the old Las Vegas townsite.

Welcome to Las Vegas
Nearly half a century after its unveiling, this sign remains an icon of Las Vegas.